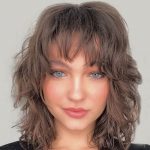 Bangin' Styles: A Guide to Trendy Haircuts with Bangs
Hairstyles are an essential part of fashion and self-expression. They can make or break an entire look and are often the first thing people notice about someone. One hairstyle that has been trending for years is bangs. Bangs can instantly transform your appearance, giving you a chic and stylish edge. However, with so many types of bangs and face shapes to consider, it can be challenging to find the perfect fit for you. In this article, we'll be discussing various trendy haircuts with bangs and how to choose the right one for your face shape, style, and maintenance tips. So, whether you're considering getting bangs or are already a fan, read on for our ultimate guide to bangin' styles.
Choosing the Right Bangs for Your Face Shape
Choosing the right type of bangs for your face shape can be a bit daunting, but it's essential to ensure that they complement and enhance your features. Here's a breakdown of different face shapes and the types of bangs that suit them best.
If you have a round face, go for long and side-swept bangs that will elongate your face and make it appear slimmer. Avoid blunt, full bangs that can make your face look rounder.
For oval-shaped faces, almost all types of bangs work well, making it easier for you to experiment with different styles. However, try to avoid too-heavy bangs that might overwhelm your features.
If you have a square-shaped face, opt for soft and wispy bangs that will soften the angles of your face. Avoid blunt, straight-across bangs that can highlight the sharp angles of your face.
For those with heart-shaped faces, go for wispy and light bangs that will frame your face and draw attention to your cheekbones. Avoid heavy, full bangs that can make your forehead look smaller.
Remember that these are just guidelines, and you can always experiment with different types of bangs to find what suits you best. Don't be afraid to consult with your hairstylist or try on different styles to see what looks good on you. With the right type of bangs, you can elevate your style and enhance your features.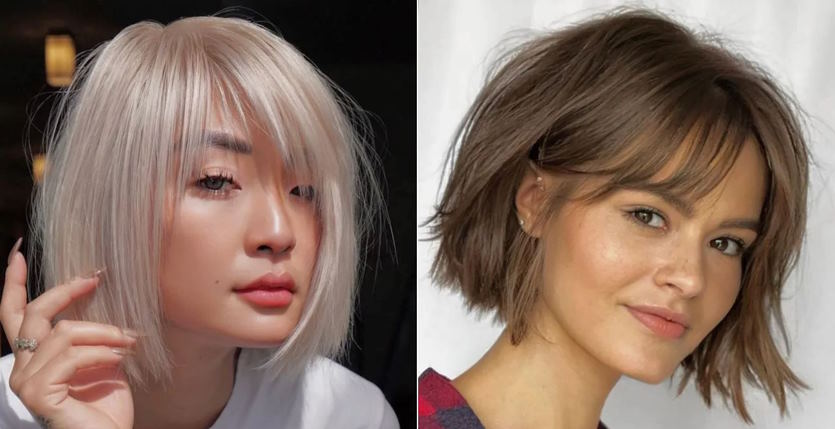 Styling Bangs
Once you've chosen the perfect type of bangs for your face shape, it's time to style them to perfection. Here are some styling techniques that will help you achieve that flawless bang look.
Using a blow dryer is a quick and easy way to style your bangs. Use a round brush to brush your bangs down and blow-dry them in a downward direction, following the brush. This technique will help to create volume and add texture to your bangs.
A straightening iron can also be used to style your bangs, especially if you have naturally curly or wavy hair. Simply clamp the iron onto your bangs and slide it down towards the ends. This technique will help to create a sleek and smooth look.
If you want to add some curls or waves to your bangs, a curling iron can be used. Simply wrap small sections of your bangs around the iron, holding for a few seconds, and then releasing. This technique will create soft and effortless curls.
Hair accessories can also be used to style your bangs. Headbands, clips, and barrettes can be used to pin your bangs back or add a touch of flair to your hairstyle.
Remember to use hair products that suit your hair type and the style you're going for. Hairspray can be used to keep your bangs in place, while hair serum can be used to add shine and reduce frizz.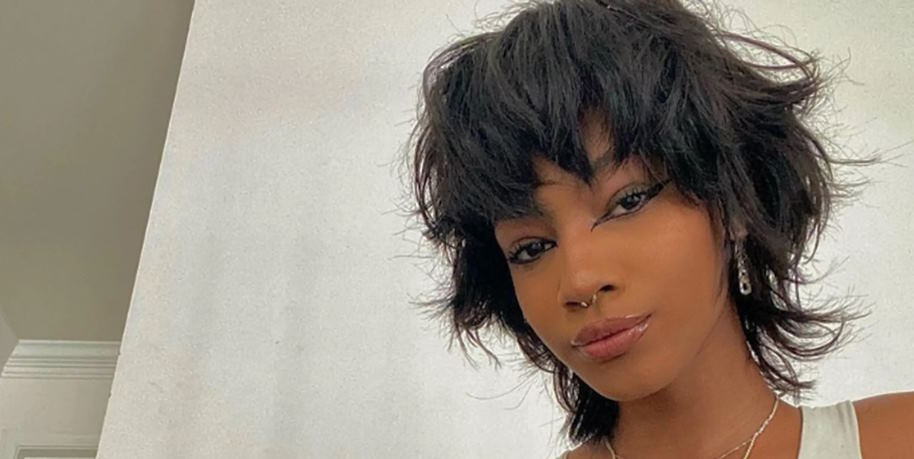 Maintaining Bangs
Maintaining your bangs is crucial to keeping them looking fresh and stylish. Here are some essential tips for keeping your bangs in tip-top shape.
Trimming your bangs regularly is essential to keep them looking neat and tidy. Visit your hairstylist every 4-6 weeks to trim your bangs and prevent them from becoming too long or unruly. You can also trim them at home using sharp scissors, but be cautious not to cut them too short.
Washing your bangs separately from the rest of your hair can help to prevent them from getting greasy or oily. Use a gentle shampoo and conditioner to avoid stripping your hair of its natural oils.
Styling products can help to maintain the shape and texture of your bangs. Use a volumizing spray or mousse to add volume and texture, or a smoothing serum to control frizz and flyaways.
When blow-drying your bangs, use a low heat setting to avoid damaging your hair. It's also essential to use a heat protectant spray to protect your hair from heat damage.
Lastly, avoid touching your bangs too much with your fingers as it can transfer oils and dirt from your hands to your hair, causing it to become greasy.
With these maintenance tips, you can keep your bangs looking fresh, stylish, and well-groomed. Take good care of your bangs, and they will be sure to enhance your overall look and style.